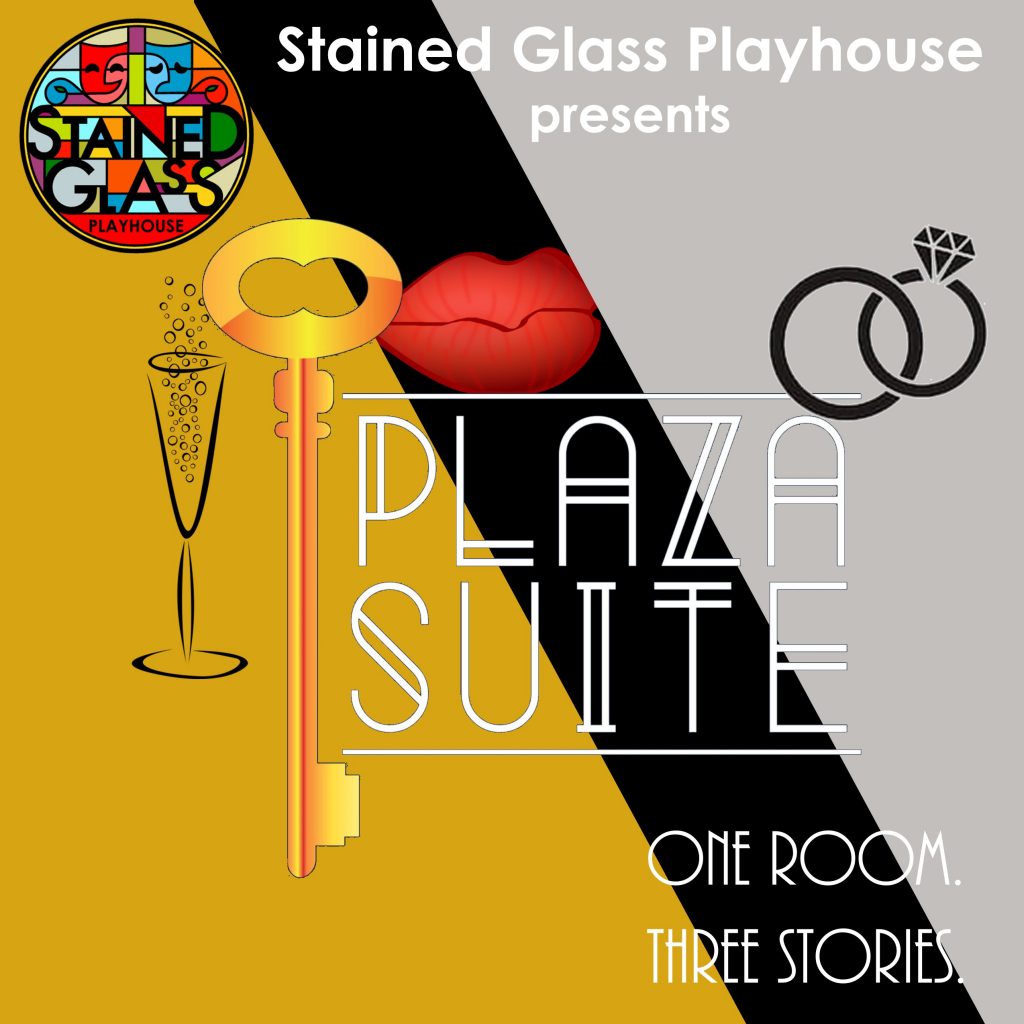 Plaza Suite
by Neil Simon
February 5-7, 12-14, & 19-21, 2021
Friday & Saturday 8 pm, Sunday 3 pm
Three couples successively occupy the same suite at the Plaza Hotel in New York. A suburban couple return on their anniversary to the suite in which they honeymooned 23 (or was it 24?) years before, in an attempt to revitalize a struggling marriage. A Hollywood producer calls a childhood sweetheart, now a suburban housewife, for a little diversion, but she proves to be more than the match he bargained for. The mother and father of a bride-to-be argue about the best way to get their daughter out of the bathroom and down to the ballroom where their guests await.
Directed by Gregg Vogelsmeier
"Plaza Suite" is presented by arrangement with Concord Theatricals on behalf of Samuel French, Inc. www.concordtheatricals.com
GET TICKETS
$17 for adults
$14 for seniors (60+) and teachers,
$12 for students.
All prices include sales tax.
CAST:
Sam Nash - Busy executive who has made every effort to conceal his age; may double as Jesse Kiplinger and/or Roy Hubley.
Jesse Kiplinger - Confident, self-assured Holloywood producer who, after three marriages, is looking for fresh fields; may double as Sam Nash and/or Roy Hubley.
Roy Hubley - Volatile, explosive man who is nervous and frightened about marrying off his only daughter; may double as Sam Nash and/or Jesse Kiplinger.
Karen Nash - Pleasant, affable woman who has let age take its natural course; may double as Muriel Tate and/or Norma Hubley.
Muriel Tate - Warm, easygoing, attractive woman who only seems naïve and vulnerable; may double as Karen Nash and/or Norma Hubley.
Norma Hubley - Extremely nervous women putting on her best face for her daughter's wedding day; may double as Karen Nash and/or Muriel Tate.
Jean McCormack - Sam's secretary, a trim, attractive, bright, cheerful young woman; may double as Mimsey Hubley.
Mimsey Hubley - Beautiful bride-to-be, afraid of becoming like her parents; may double as Jean McCormack.
Borden Eisler - Smart, cool, and confident young man soon to be wed to Mimsey; may double as Bellhop and/or Waiter.
Bellhop - Young man who takes pride in his work; may double as Borden Eisler and/or Waiter.
Waiter - Has been working at the Plaza Hotel for a long time; may double as Borden Eisler and/or Bellhop.